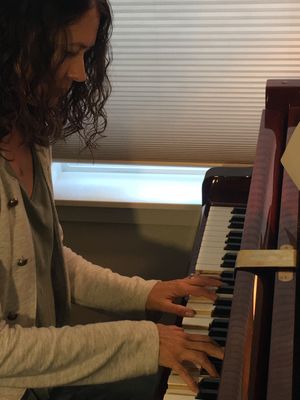 Listening to myself play on a recording is quite eye-opening. Stepping back from behind the keys and hearing myself play gives me a new perspective, unclouded by what I "think" I sound like! From this position I am far more attuned to nuance and shape and color, or the lack thereof. I listen to recordings by amazing (famous) pianists like Arthur Rubenstein, Sergei Rachmaninoff, Vladimir Horowitz, Murray Perahia, Yuja Wang, and hear incredible sensitivity and attention to detail, beautiful tone colors and impeccable technique. Even their mistakes are artistic!
What is it that sets these wonderful pianists apart from an amateur? How does one develop the kind of artistry that holds the attention of the listener, that inspires, that awakens emotion? It is more than technical perfection, even more than reading exactly what is on the written page or interpreting it in the intended style of the composer. And this "it" – can "it" be taught, learned? Is it an intuitive musical sense that is born in a great performer and flourishes over time? If one has "it," how can it be further developed and polished? What makes a true artist? 
All of these questions run through my mind as I pursue this project, recording myself over and over, tweaking things, listening to other pianists play, seeking constructive criticism, returning to the piano yet again. I realize that there is never an "end" to becoming an artist - that even the great pianists never stop being critical of their own playing. But I am hopeful that with each recording "take" I am getting a little closer to becoming a true artist, able to make music in such a way that it grabs hold of you at the deepest level and touches you somehow. At any rate, although I have been making music for a while, I feel like this CD is a new beginning as I think about my playing in a different way, practicing and reflecting and polishing on my way to Becoming.