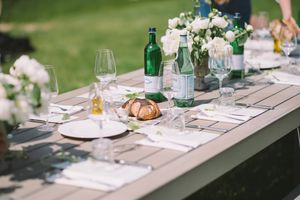 Words matter. To one with an artistic temperament, words matter intensely. In the last year, two phrases were directed toward my playing that shook me: "…not up to our standard" and "I didn't even think of you." After a good cry in both cases, I tried not to dwell on what had been said and instead tried to evaluate it in light of what was true; to not hold resentment; to redirect my focus on bettering my playing. As a Christian I am to "take every thought captive and make it obedient to Christ" and to dwell on what is "true, noble, right…" Dwelling on the negative is not productive and can be harmful. This is difficult to do. Words rankle. 
I watch a good amount of cooking competitions on television and am continually impressed by the way chefs deal with frank criticism. Cooking is an art, not just a science, and even in a speed competition chefs strive to present their best dishes with artistry, passion, and thoughtful presentation. Yet the way the judges speak to them can be ruthless! Of course, there are chefs who react ungraciously, defending their food at all costs (even if the judge is right). However, more often than not I see chefs revert to their training, nod respectfully and reply, "Yes, chef" in either agreement or humble submissiveness to the decision. 
What a response! When everything in you wants to rise up and DEFEND! DEFEND! (And maybe ATTACK!) To humbly submit to an evaluation and not retaliate is commendable. To do this when the judgment feels unfair is even more praiseworthy. How do you respond to the comment "not up to our standard" when you see other competitors clearly lacking in technique and artistry? How do you deal with being overlooked by an esteemed colleague? 
I can only think of Jesus, Who, being in very nature God, did not consider equality with God something to be used to his own advantage; rather, he made himself nothing by taking the very nature of a servant, being made in human likeness. And being found in appearance as a man, he humbled himself by becoming obedient to death—even death on a cross! (Philippians 2:6-8 NIV) 
This is not to say we become doormats for criticism. What it does mean is that we take up the tasks God has given specifically to us and leave the ones He does not permit, in submission to His perfect will, trusting in His goodness to carry us through. 
Yes, Chef.