Piano Studio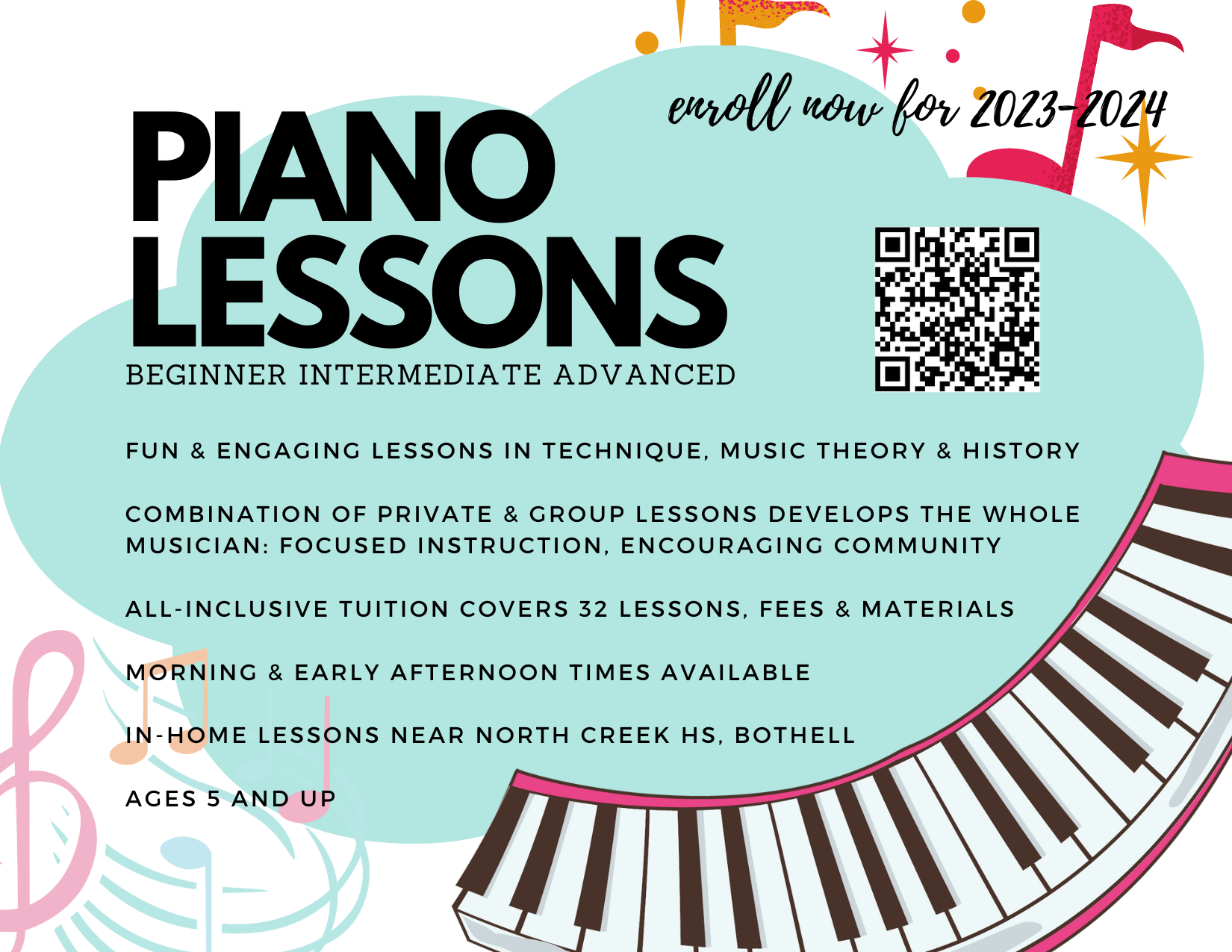 SCHOOL-AGE STUDENTS
Are you looking for top-quality piano lessons? I offer a combination of individual and group lessons throughout the year so students can learn at their own pace while also enjoying enriching and rewarding musical experiences with others. Private lessons focus on the classical piano repertoire, technique, sight reading and theory. Students are also welcome to work on music from other genres they find interesting, such as sacred, jazz, musical theater, and pop. Group lessons focus on diving deeper into music theory and music history concepts in a fun, interactive and collaborative setting, as well as learning good performance practice (honing one's own performance skills and developing the skill of active listening). Group lessons also offer the opportunity for students to play for each other in a welcoming, no-pressure, celebratory setting.
For the 2023-2024 academic year, lessons are offered on Tuesdays between 9am and 2pm from September-May. Students will receive 32 lessons in total: 27 private lessons (either 30-minute or 45-minute, depending on level) and 5 group lessons (60-minute). 
More information may be found in my Studio Policy.
FAQ
How do lessons work? Students come once a week for a 30-minute or 45-minute private lesson. Five weeks per year, students will have a 60-minute group lesson in lieu of the weekly lesson. Lessons take place in my home near North Creek High School in Bothell.
Are there any performances? For the 2023-2024 school year, performances will be informal and will take place during group lessons. If parents wish to observe, they may come to our two piano parties in December and May. 
What if we can't make a lesson? By joining my piano studio, you are receiving a set time in the studio's schedule. It is assumed in the annual tuition structure that students may not be able to attend every lesson week of the year. There are no "makeups." Provisions for illness and inclement weather are given in the Studio Policy.
Cost? Tuition is an annual fee divided into 9 monthly equal payments whether there are 2 or 5 lessons in that month. It includes all fees for registration, materials, awards, etc. There are 32 teaching weeks from September-May. More details may be found in my Studio Policy.
Interested in taking the next step? Click here