This content is from Cori's August 2020 Newsletter. If you would like to receive Cori's monthly newsletters in your inbox, please subscribe here.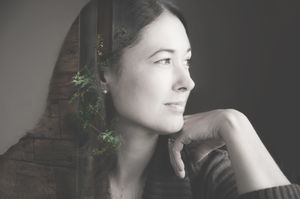 Lemonade from Lemons 
A big THANK YOU to all who joined us for the premiere of "God Bless America," our first ever Indie Musikhaus virtual concert! We had over 50 people join us for the premiere, and the YouTube video has been viewed over 300 times. Imagine trying to fit you all into my living room...! What strange times we live in, and how grateful I am for opportunities to connect and make music even from a distance. If you missed it, you can still catch the performance here through Summer 2021. 
Of course this fall will look quite different for the arts. I have enjoyed seeing the creativity of many musicians via the Internet this summer. It is not ideal, and even feels a bit "fake" at times, like we are trying to make the best lemonade with pretty sour lemons! Maybe you have been invited to be a part of a virtual music-making experience and have not taken the plunge yet because of the strangeness of the times. Let me encourage you! 
Technology, recording, working remotely - none of these things will ever replace the very real collaboration of musicians working together in the same room. Let's not pretend that they do. However, it is a viable way to make music together. Studio recording musicians have known this for years, and have the advantage of having already worked through the discomforts of playing to a microphone, listening to musicians through headphones, and trying to communicate through a digital medium (as opposed to a live audience). I think it is important for more of us to explore this concept. 
When Seiko Werts and I began talking about our "God Bless America" concert, I had spent the previous two and a half months in lockdown, trying to virtually "school" my kids and feeling anything but inspired and creative. June came along, and as things began to open up again, (and as we closed the books on a strange school year), I felt the need to take on a musical project. Nothing seemed more fitting than the spirituals for the season, and so Seiko and I put together a program of songs that pointed to hope in the midst of hardship. We recorded ourselves individually many times, and there was a lot of back and forth as we traded music files and Face-Timed each other. I had Seiko sing over the phone while I watched my music so I could mark my score to make room for more nuanced breathing and rubato. It was difficult, not ideal, and certainly less than amazing to watch myself on video and hear imperfections! But, it was so soul-satisfying to work on a musical project again, with a "concert date" on the calendar, and it forced me to work hard and steadily through the challenges. 
I can't tell you how weirdly amazing it was to watch the final video of us finally performing "together." It was almost as good as being together in person. Not the same, but a very good second. If you have a chance to collaborate musically this fall with a friend or two or a hundred (!), please try. It will stretch you musically and personally, connect you with other musicians, and will be an encouragement to both your colleagues and your audience. You will be so glad you did! 
Around the Web 
Pianist Simone Dinnerstein describes a bit of her pandemic experience. I can relate to her feeling that "lockdown did not make me feel creative or productive." However, she still managed to create beautiful music from her Brooklyn living room, recorded on her new album, "A Character of Quiet." 
One of my favorite pieces, Faure's "Pie Jesu," was recorded remotely this summer by Brass Band Northwest. 
Ah, the days before social distancing! Eight pianists, four pianos, and a whole lot of notes here in an inspiring performance of Rossini's William Tell Overture from the Verbier Festival in 2018. Can you name any of these famous pianists?! 
Upcoming Concerts 
December 2020  TBA! A virtual holiday concert with Kirkland Choral Society