This content is from Cori's June 2020 Newsletter. If you would like to receive Cori's monthly newsletters in your inbox, please subscribe here.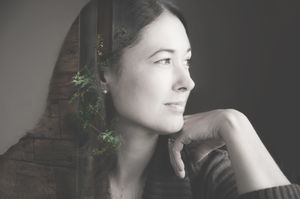 Forward Motion
Happy Summer! The weight of virtual homeschooling has been lifted (for now) and we have been loving the sunshine, as well as some recovered freedom of movement as our county entered Phase 2: salons opened, in-person gymnastics classes re-started, and we have been meeting friends at the beach and enjoying backyard barbecues. As well, new projects are in the works. My girls are selling at a local Farmer's Market and have been busy crafting jewelry, soap, and stuffed animals. I am excited to announce a new project of my own as well! 
In just a few weeks, I will be hosting the very first virtual Indie Musikhaus house concert...in YOUR living room! My good friend Seiko Werts graciously agreed to collaborate with me, and we have an exciting program planned for you. On Sunday, July 19th, at 3:00 pm, we will present "God Bless America," a collection of spirituals and other songs celebrating the faith and hope upon which America was founded. Even Beethoven makes an appearance with his variations on "God Save the King," the melody of which you will recognize as the familiar "My Country 'Tis of Thee." There will be singing, some solo piano pieces, and even a dueling piano selection! 
Please mark your calendars and be on the lookout for more information (in the next newsletter) about how to RSVP and get the link to the concert. We hope you can join us! Seiko and I can't wait to share this beautiful music with you. We think it will encourage you and lift your spirits! 
At the River 
Earlier this month, I sent Seiko a video of me playing Aaron Copland's arrangement of "At the River" and asked if she would sing "with" me. She decided to play along, and this video was created! Think of it as a sneak preview of our upcoming "God Bless America" concert!
Around the Web 
Can't get enough of "God Save the King/Queen"? Here are several variations on the theme, including some by Charles Ives and Franz Liszt. 
An interesting interview with pianist Andrew Armstrong, discussing his part in Seattle Chamber Music Society's Virtual Summer Festival and the role of technology in these times. 
More livestreams! Have you been following the performances at London's Wigmore Hall? Here is one by pianist Stephen Hough. 
Who says classical pianists can't think on their feet? Brazilian pianist Eliane Rodrigues has pedal trouble during a live performance and literally takes the performance below the stage! 
Last, but not least, a wonderful "tiny desk concert" from pianist Lara Downes during the lockdown. 
Upcoming Concerts 
Sunday, July 19th, 3pm  "God Bless America," a virtual Indie Musikhaus concert in your living room!