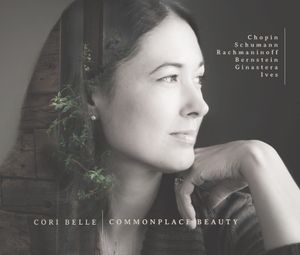 My debut classical CD, Commonplace Beauty, is now available for purchase through my website! It has been a work of love for the better part of this year, and I want to give you a glimpse of the thinking behind the album. 
FEELS LIKE COMING HOME 
In many ways this album is about coming home. I chose the name, Commonplace Beauty, from something that Charles Ives, an American composer, wrote about his Concord Sonata, and the Alcotts movement in particular. The sonata is a four-movement piece, where each movement highlights a different philosopher from the 19th century transcendental movement in America: Ralph Waldo Emerson, Nathaniel Hawthorne, Bronson Alcott, and Henry David Thoreau. "The Alcotts" refers to Bronson Alcott and his daughter Louisa May, the writer, and the family they formed together with Bronson's wife and his other three daughters who lived in the Orchard House in Concord, Massachusetts. 
Ives talks about the "commonplace beauty" that was Alcott's home and life, which was intertwined with a strong faith, an appreciation for art and beauty and eloquence of speech, as well as beauty found in nature. All of these things combined to make "home" for his family. I've always been drawn to that, particularly as I grew up reading Louisa May Alcott's novels, starting with Little Women. When the movie came out in 1994, the Orchard House was exactly as I'd pictured: that sense of belonging, creativity and laughter, tears and an undergirding faith in God through it all. It embodied what I felt was the spirit of Louisa May Alcott's writing. Charles Ives wrote this music celebrating this family and their life together. It resonates with me, as I also come from a family that is undergirded with a strong faith in God and of course, as a pianist, having an appreciation for art, music, and writing. In a way, playing this piece is like showing you what home feels like for me. 
CHOOSING THE PIECES ON THE ALBUM 
In thinking about the other pieces in this album, I chose pieces that I performed at different stages in my life that have special meaning to me, all driving "home" that idea of home! I grew up listening to my dad play Chopin and Rachmaninoff as I was going to sleep at night so there is a strong sense of nostalgia whenever I hear pieces written by those composers. I also play some Bernstein and Ives which may seem a little out of place among these other romantic composers, but who feel very at home to me. They are Americans; I am an American. That sense of nostalgia and the tradition of folk music, although not as common as it once was, is still part of our nation's history and I feel like there's a very distinct American sound brought to the forefront by Aaron Copland whose echo I hear in these pieces. These Bernstein, Ives and Ginastera pieces were all performed in my home at different house concerts over the last five years. It's another part of home. 
When we started having kids, I quit my job as a teacher so I could stay home with them. I'm very fortunate to have a husband who is able to provide for us and who encourages me in my music. At the time I had my first child, the choir that I had been a part of for a considerable amount of time was disintegrating under a series of changes in leadership. We had been a 100-voice choir singing all kinds of repertoire touring the US and performing in different concert halls. The choir dwindled to a handful of people and kind of died, leaving a big musical void in my life. Of course, the choice to stay home, if you've had that same experience – you go from working full time and having a great community of colleagues – also leaves a bit of a hole in your social life. I was looking for an outlet musically and socially so I started playing with the idea of actually hosting these house concerts that I had been dreaming of. Our first one was about 5-6 years ago and we've been doing them about once a quarter since then. We have had all kinds of people in our home, and it's been a wonderful opportunity for me to perform again and to be with my musician friends, as well as an excuse to bring in new musical friends and introduce our children to great music. 
MIXING GENRES 
One of the things I like to do in house concerts is to mix genres. I really like the juxtaposition of classical music with jazz, seeing how composers treat the same thematic material in different ways. I love to bring in different musicians and see how much we can learn from each other. That is part of the spirit of this album, bringing together seemingly disparate composers and trying to show musically how they can all fit together. 
The album opens with a Rachmaninoff Prelude and the Chopin Fantaisie-Impromptu, both of which are virtuosic and show off a fast finger technique, complimenting each other well. The B-flat Minor Nocturne follows the Fantaisie, being by the same composer, and having a similar spirit. But what do they have to do with some of these other pieces? Rachmaninoff and Chopin were contemporaries of Schumann. But why put them all on the same record as Ginastera, Ives, and Bernstein? I think the connecting thread for me is not only the personal one, having performed these pieces in and out of my home, but also that these composers had a strong sense of their own country and home. Maybe you can hear some of that in their work. In Ginastera's dances, listen for some of the melodies and rhythms of his homeland. Chopin was known for his nationalistic way of composing. They all had a strong sense of identity with their country, so I think in that way they fit. 
There are a lot of short pieces on this album: the Schumann and Ginastera dances, the Bernstein Anniversaries… The Rachmaninoff is also a set of short "pieces" – musical ideas that are strung together to make a beautiful cohesive work. That is another common thread – these pieces of ideas and melodies that when put together make a beautiful whole. I think about that, even with the Fantaisie-Impromptu that has two very distinct ideas (fast furious fingerwork at the beginning and end, bookending a beautiful soaring melody). Chopin intentionally put these two parts together and they fit. All these things come together under the umbrella of Commonplace Beauty 
COMMONPLACE BEAUTY 
Sometimes we think of beauty as something elusive, something we admire and are striving for but can't completely attain. I like the idea of this word "commonplace." Beauty may seem high reaching, and yet we can find beauty anywhere. It's a little bit magical that at the time I began recording this album it was fall. In the Pacific Northwest, this is the most gorgeous time of the year, with the red, orange, and yellow leaves exploding in color against the dark gray skies. It is something that happens every fall for about a month or two, and although we know it is coming, it somehow surprises and delights us each time it arrives. I think this is the idea behind a "commonplace beauty": finding beauty in the everyday things. Music for me is a daily thing, but I don't want the daily-ness of the practice to subtract from the beauty that is in it. Living together daily as a family, in a home, comes with a lot of "daily-ness" and even drudgery at times, but when undergirded with a spiritual foundation of faith in God, and a commitment to love, it can bring something beautiful to life. 
That is my hope with this album - that I am able to impart some of this beauty to you and your home, and that it will touch you in some way and leave you feeling as if you have encountered something beautiful. I hope you enjoy listening to it as much as I enjoyed making it!