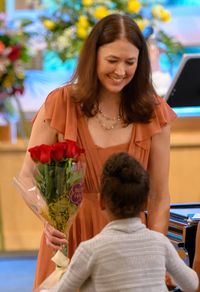 This is the first year my children are all in school full-time and the year I have felt the most need to justify my not working outside the home. The question often comes up, "What do you do with your time?" The question is well-meaning, as it is an American norm to meet someone for the first time and ask, "So what do you do for a living?" The assumption that a mother has nothing to do when her children go off to school in the morning is laughable to me, but understandable in our culture where we often see mothers working full-time jobs and supposedly keeping it all together. If she can do it all, what indeed does a mother do during the day who is not working?
The short answer is: I do everything I did when my children were young and at home full-time with me, just without interruptions! Of course, I do not have the responsibilities of changing diapers and entertaining children, so my workload has decreased somewhat. This is where my music comes in. But first, a little background. 
When my husband and I were first dating, he in his early thirties and I in my late twenties, we discussed our dreams for the future. His ideal job was to own his own business; mine was to be a stay-at-home mom and do music. Many people stop there with the discussion, but our firstborn, type A personalities didn't allow us to end it there. When we got engaged, we made some decisions about how we would make our dreams happen. At the time I was a public schoolteacher and my husband was a sales manager at Microsoft. We had some debt to take care of, but fortunately no school loans to pay off. We decided right away that we would not depend on my income to live on. Our plan was to get pregnant after a year or two of being married; if a child came sooner, this would not disrupt our financial situation. After about a year and a half I did get pregnant and gave notice at my job and then began my life at home as a mom. 
Fast forward ten years to today, and we have three school-age children, my husband has retired from Microsoft, and we own a flourishing business. Of course, a lot of details and drama happened in-between, and it has not always been easy. There were several years where my husband worked two jobs while I stayed home with two babies in diapers and a very extroverted toddler. We bought our first house at prime market rate and weren't able to sell when we wanted to because we would have lost a significant amount of money in the market crash (We ended up renting it out for several years until we regained some equity and could sell at break-even). All in all, though, we have been blessed. The Lord has led us in our decision-making as we leaned on Him for guidance. We are both now seeing the fruit of the decisions we made at the beginning of our marriage. 
As to what I do during the day, maybe I should first explain what happens when the children come home. I pick them up from school (their school does not have bus transportation) and bring them home where they get changed, grab a snack, and start on homework. At this age, all three need some assistance with practicing spelling words, memorizing their Bible verses, studying for history tests (or Latin, science, geography, literature depending on the child and the week), and doing some extra math practice. It is not all hands-on for me, but I do need to hear the little one read aloud and we always review their graded work together to go over mistakes and celebrate successes. Depending on the day, it takes one to one-and-a-half hours to get through homework. By that time it is time to prepare dinner (or finish preparing, if I started something in the crockpot earlier in the day), eat together as a family, and then make lunches for the next day (the children are responsible for making their own lunches, with a little guidance). There is then about an hour of free time before we start the bedtime routine, where my husband and I take turns with each child individually, reading a story and Bible and praying before turning out the lights. Unless, of course, it is a gymnastics day for my oldest, and then I shuttle her back and forth to practice; or a choir rehearsal day, where I take off for the evening. We try to keep evenings low-key and enjoy time together as a family. Because of this, the bulk of my household managing and music "stuff" needs to happen during the day. 
A typical day for me, after getting the kids off to school, involves going to the gym, walking the dog, prepping dinner, doing some chores, and getting to the piano to practice. I play for a community choir that often sings music with a decently challenging piano part (or an orchestral reduction – we did Verdi's Requiem this spring) and occasionally I lead a sectional and need to prepare what to rehearse. I also host house concerts once a quarter so I recruit musicians, program and advertise concerts, and prepare my own music to perform for those. I volunteer at my church as well, doing a little administrative work, some graphic design, and leading a worship team every other month. This all sounds very do-able on paper, doesn't it?! The days are always full, though. Practicing solo and collaborative works and choir music, maintaining a personal website and one for house concerts, participating in online professional development groups and marketing my new CD take considerable time. Combine that with home maintenance, gardening, birthday planning, volunteering at the kids' school, paying bills, and meeting friends, and my days are full. Managing a house and trying to have a personal life while raising children means there is always something to do. 
It is a most fulfilling life for me and I am immensely grateful to have the opportunity to stay home and invest so much in my husband and kids and home. These years are fleeting, and because we had our kids close together in age, it means we have about twenty years with them in our home (ten of these have already passed!) to nurture and care for them and teach them how to love and honor God with their lives and pursue their dreams. We intentionally make our family a priority, and because we do it means we make sacrifices in other areas. 
I love what author and missionary Elisabeth Elliot has said about choices: that a choice is a limitation. We are fortunate to have so many choices available to us in America, but we must realize that every choice limits us. Marrying one person means not marrying another; having X amount of children means there will be sacrifices of time and energy (and sleep!) and finances. For me, choosing to stay home with my kids means I limit the amount of travel and performing I do as a musician. I do this gladly, knowing it is only for a season, and that the investment I make in my children will reap far greater benefits down the line than growing a music career. At the same time, I am doing what I can to grow as a pianist. 
Last fall I recorded a solo classical piano CD in my living room on a considerably low budget with limited equipment. An additional financial investment has led to the album receiving radio play across the United States and it is on track to garner some important reviews and press. My relationship with my choir has led to recitals with new colleagues. I am exploring more avenues for performing during the day so that my involvement with music does not intrude too much on family life. Of course, both my husband and I see my involvement with music as a benefit to the children as well. They see how I work to perfect my music at the piano and what it takes to perform well. They get opportunities to see me rehearse in our home with other musicians, and they get to attend our house concerts where they meet all kinds of musicians and lovers of music. But I want to be careful that my music is not my sole focus. It is definitely a balancing act, trying to pursue what I love while being sensitive to the needs of my family. For now, in this season, this way of life is working for us all and the Lord is blessing it. How grateful I am to be able to embrace both music and family as I had dreamed many years ago.