This content is from Cori's August 2023 Newsletter. If you would like to receive her newsletters in your inbox, click to subscribe here.
Happy "New" Year!
As summer draws to a close, those of us with school-age children gear up for a new year. Stores have been anticipating this for the last two months, displaying school supplies just a week or two after school got out for the summer! We, however, didn't "bite" at the first sales, but just now are getting around to preparing for the return to school with its requisite new shoes, new notebooks, and new lunchboxes.

I love fall in the Pacific Northwest, when the morning air begins to have a hint of crispness, the leaves begin to change, and the Starbucks menu showcases autumnal flavors: cinnamon, pumpkin spice!

Although we are not quite there yet (the sky is smoky from neighboring forest fires, the weather is quite warm, and gardens are still producing their summer crops), I am looking forward to the return of school routines, fall sports, and new projects! Below you'll find two of them: a return to piano teaching, and a new concert series.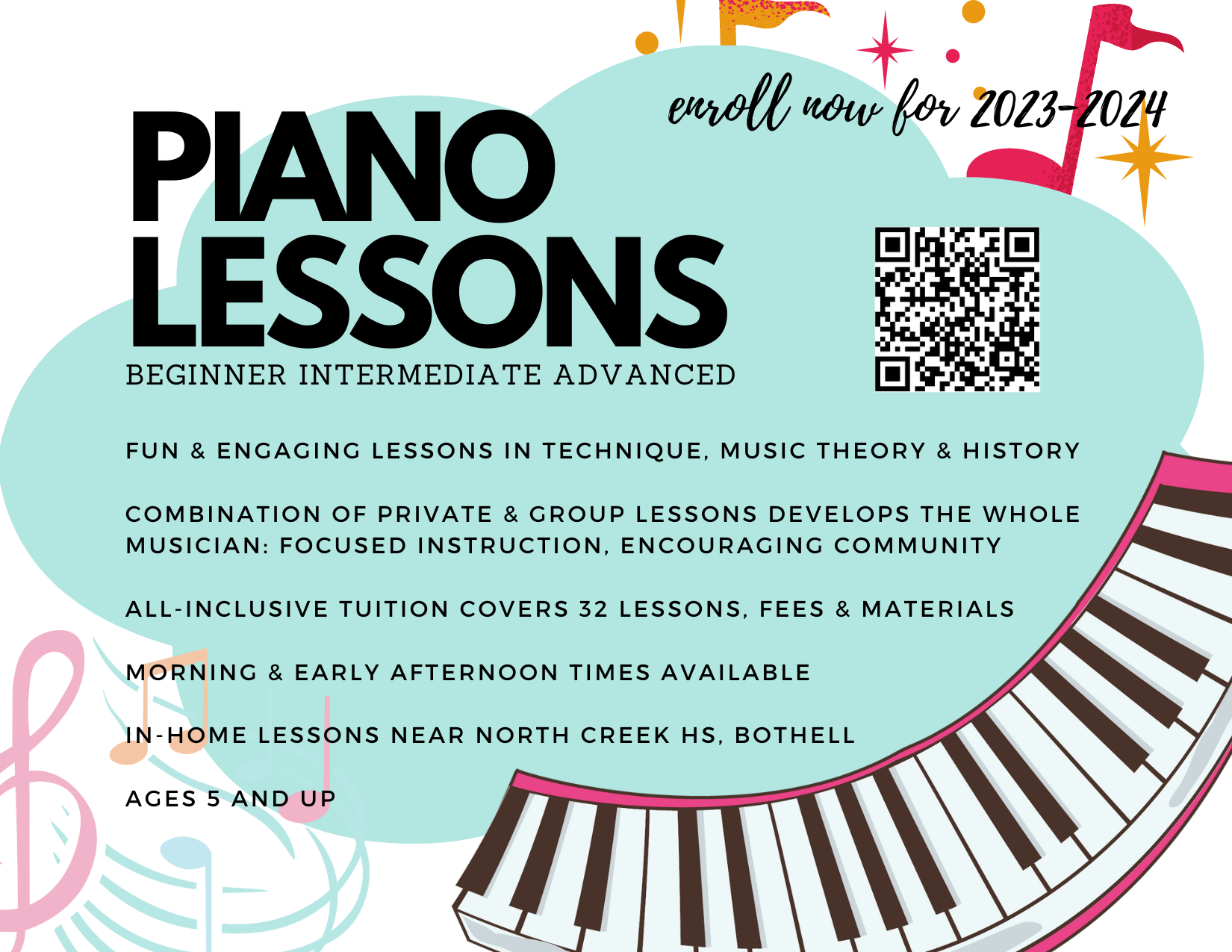 This fall, I am offering piano lessons to homeschoolers during the school day!

From September to May, lessons will take place in my home and will consist of both private and group lessons. Private lessons are what you normally think of when you think of piano lessons: one-on-one time with a teacher, working at your own pace, with teaching tailored to your unique needs. Group lessons will occur every five weeks and will provide a small community of piano students who come together to play for each other in a welcoming environment, play music theory games, and study music history with its notable composers in more depth.
For more information, check out the link here.

Save the Date!
This is music that could only have been written by a "man of Latin America," as he liked to call himself. He does more than utilize folk-melodies; he creates his own brand of "imaginary folklore," definitely influenced by what Kodály and Bartok achieved with their use of Hungarian folk-material. The sounds of the South American plains are part of his color world: the "night" sounds, the Latin dance rhythms--all contribute to Ginastera's personal musical language. The gaucho (the Argentine cowboy) becomes the mythical hero, and we can see and hear him dancing the malambo--a virile dance where one gaucho tries to outdo the other by showing off his difficult dance steps. 
- Barbara Nissman, https://www.barbaranissman.com/remembering-ginastera

Alberto Ginastera is just one of several featured composers in this October's Hispanic Heritage Concert, part of the newly formed Snohomish Concert Series. On October 14th, soprano Elizabeth Galafa Ylaya and classical guitarist Eli Schille-Hudson will join me in presenting the wonderful music of Latin America. Tickets are available now!
Around the Web
Free scores of technical exercises for advanced pianists are available on IMSLP, as well as many other classical pieces in the public domain. Find a brief list of these here, including some by Hanon and Czerny.

Another wonderful library can be found on YouTube: check out some practice clinic videos covering a variety of standard teaching repertoire at all levels.

Musings on memorization

Jarrod Richey makes the case for bringing musical literacy back into the church.