This content is from Cori's February 2020 Newsletter. If you would like to receive Cori's monthly newsletters in your inbox, please subscribe here.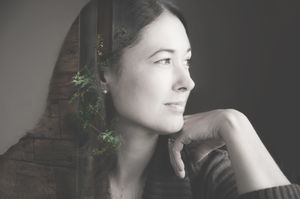 O Love 
On the heels of Valentine's Day, I am preparing for a set of two "love" concerts with Kirkland Choral Society. On Saturday and Sunday, February 22-23, we will give performances of songs celebrating love and community (accompanied by wine and chocolate at each intermission!). Although the main spirit of the program is love for our fellow man, the song that touches me the most gives witness to the deep, abiding love offered us by God through Jesus: "O Love." 
The text of "O Love" was written by Scottish preacher George Matheson (1842-1906) on the evening of his sister's wedding. It is believed that he wrote it in response to his sorrow at being rejected by the woman he had planned to marry. He took solace in the love found in His Savior, that love that "wilt not let me go." He had this to say about the poem: 
The hymn was the fruit of that suffering. It was the quickest bit of work I ever did in my life. I had the impression of having it dictated to me by some inward voice rather than of working it out myself. I am quite sure that the whole work was completed in five minutes, and equally sure that it never received at my hands any retouching or correction. 
I have no natural gift of rhythm. All the other verses I have ever written are manufactured articles; this came like a dayspring from on high." 
More on Matheson can be found here. There have been several settings of his hymn and we will present a most beautiful one written by Elaine Hagenberg. View it below, and then come hear it live at Bastyr this weekend!
O Love that wilt not let me go, I rest my weary soul in thee; I give thee back the life I owe, that in thine ocean depths its flow may richer, fuller be. 
O Light that follow'st all my way, I yield my flick'ring torch to thee; my heart restores its borrowed ray, that in thy sunshine's blaze its day may brighter, fairer be. 
O Joy that seekest me through pain, I cannot close my heart to thee; I trace the rainbow thro' the rain, and feel the promise is not vain that morn shall tearless be. 
O Cross that liftest up my head, I dare not ask to fly from thee; I lay in dust life's glory dead, and from the ground there blossoms red, life that shall endless be. 
How Lovely 
At the risk of too much sentimentality, here is one of my all-time favorite pieces, "How Lovely are Thy Dwellings" from Johannes Brahms' Requiem. It seems a fitting companion to "O Love," as it was also written at the time of sorrow, and yet is filled with hope: 
How lovely are thy dwelling places, O Lord of Hosts! 
My soul requires and yearns for 
the courts of the Lord; 
My body and soul rejoice 
in the living God. 
How lovely are thy dwelling places, O Lord of Hosts! 
Blessed are they that dwell in thy house; 
they praise you forever. 
How lovely are thy dwelling places!
Around the Web 
Looking for The One: tips for buying a grand piano by Frances Wilson 
More music to make you swoon: Rachmaninov's Prelude in B-Minor, Op.32 No.10 performed by pianist Yuja Wang 
Why Musicians Should Embrace Their Vulnerability 
Upcoming Concerts 
February 22-23 - Kirkland Choral Society "True Colors" concerts, Bastyr U 
April 2 - LMC Public Concert Series, Seattle Art Museum 12pm 
April 18 - Kirkland Choral Society "Beethoven's 50th," Benaroya Hall 
May 13 - LMC Public Concert Series, Seattle Public Library, 12pm