This content is from Cori's May 2020 Newsletter. If you would like to receive Cori's monthly newsletters in your inbox, please subscribe here.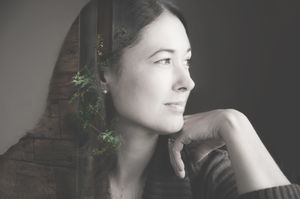 A Moment in Time
What strange times we are living in! This "pause" has been, for some, a time for reflection and new projects. For me, it has been more of a shift in how I spend my time. Music has taken a backseat to the more pressing duties of motherhood, which for the past two months have included homeschooling, counseling and entertaining children, and general upkeep of home and family. We've acquired a basketball hoop, a drone, and a new bike! We've resurrected two old laptops for online schooling. We've planted a garden, ripped up our soggy lawn, completed two 1,000-piece-puzzles, and cleaned out all the closets. My girls sleep in newly rearranged rooms. Family bike rides are a new "thing" and our baking adventures have taken us into new territory: pretzel bites, Dole Whip, churros, and faux Dippin' Dots. But I miss music! 
I read an article this morning that explained this weird time for musicians better than any I have seen up to now. It explained the need of professional musicians for an audience. The muse, the motivation to practice and refine, the creative energy...all these things require an audience, or at least the anticipation of a future audience, to gain momentum. This is true for me at least. In the absence of regular meetings with musician friends to rehearse or talk music, and without a calendar with upcoming performance dates, my music has slipped aside. 
I can hear you already - Cori! We want to hear you play! Yes, and I will... It will come back. Live music-making will come back, because there is that impulse in us that must make music for others. But right now it all feels a little strange. Like zoom fatigue. Have you been there? That feeling that meeting virtually is just not enough. Perhaps it is better than nothing, but really it is not a good substitute for the very real social nature of humans. We need to physically be with each other, sharing the same breathing room, giving and receiving that unseen creative energy. We are not virtual beings; we are made of both body and spirit, and the expression of our creativity is both material and spiritual. This is how it is, how our Creator God made us, and I have hope that since He made us that way, He will restore that very physical expression of music in person again. Until then, I may remain partially silent, but the music will come! 
Bothell meets Hiroshima 
I am so proud of my friend, Seiko Werts, who created this wonderful video compilation with her husband, Doug, and her friend Shoko Nagai along with her husband. I hope you are inspired by their beautiful music and photography!
If Ye Love Me 
If you are keeping track, you know that I haven't written a newsletter since February, at which time I was promoting Kirkland Choral Society's "Love" concerts. Here is a piece I learned first at KCS, which was recently recorded by a friend who works as musical director at Seattle's First Church. Some members from KCS joined choir members from First Church to make up this virtual choir!
Around the Web 
Here is the article that gave me pause: Finding Inspiration in Isolation. Art needs an audience. 
One of my favorite pianists, Lara Downes, reflects on these strange times and considers the "why" behind her music-making. 
Musicians from Seattle's annual Chamber Music Festival perform Dvorak's Gavotte for Three Violins. 
Upcoming Concerts 
TBA!