This content is from Cori's September 2020 Newsletter. If you would like to receive Cori's monthly newsletters in your inbox, please subscribe here.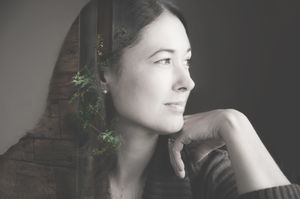 A Bit of Light
I am enjoying the return of the sun after a week or so of cloudy, smoky skies, especially as we are soon to head into the drizzly, dreary days of fall in the Northwest (but not too soon, I hope!). These are trying times, and yet rather than commenting on current events I thought I would share some lighter news on the creative front! 
Recently I reopened my book of Rachmaninoff preludes and have settled into practicing a few of my favorites. Prelude Opus 23, No. 7 is one of my particular favorites, as it is one I remember my dad practicing in my childhood. I had an "aha" moment the other day when I was watching various YouTube videos of different artists playing it: the opening figure of each measure at the beginning of the piece can be played with the left hand! 
If you haven't ever tried to play the piece, I will try to describe the opening: it is this swirling, continuous motion grouping of sixteenth notes that are played at an ungodly speed while left and right hands alternately play octaves. You actually would do well if you had three hands to play this piece! However, with only two, you have to get creative. This YouTube tutorial was mind-blowing for me. If you take the first grouping of notes with your left hand, you can avoid some awkward fingering crossings with your right, and make life much easier for yourself. (Why did I not try this sooner?!) 
Perhaps I get too used to looking at things one way. My creative problem solving is not boundless, although I have a lot of tools in my toolbox from various teachers over the years. I still find I need the insight of others to point out things I didn't see before. 
Not to get too philosophical, but isn't that a great lesson for life? We do need each other, and considering another approach to a problem that we hadn't thought of before can be quite beneficial. What a great gift we have been given in the medium of music, where we can come together to create and learn from each other, and enjoy the process! 
Video Below: I am still searching for my favorite interpretation of this piece. Pletnev's performance is very good!
Exploring Rachmaninoff More 
I had another realization while practicing the Rachmaninoff Prelude mentioned above. Watch my short video to see what Rachmaninoff might have in common with the Latin Jazz composers!
To compare the two pieces, listen now to Piazolla's "Libertango," performed at one of our own Indie Musikhaus concerts a few years ago. Click here and scroll about halfway down the page to hear Eric Verlinde and Ricardo Guity master the montuno!
Around the Web 
The beloved John Rutter, choral composer and conductor, gives insight into his musical career. His advice to aspiring musicians: "Be very, very good at what you do if you possibly can. Work harder and more perseveringly than anyone round you. Prepare thoroughly. If you are a performer, try to be true to the composer's vision; if you are a composer, be true to yourself. If you have a spark of something, it will communicate, regardless of style." 
Along those lines, concert pianist Richard Goode and writer Frances Wilson urge us to "Play what you play best!"
Upcoming Concerts 
December 2020    "At Home with KCS," a virtual Christmas concert. Date TBA.